Feelin' Groovy: Interdisciplinary perspective on the origin, nature, and uses of the ogham script
… Invoke my name!
Place your fingers
In the ice-cold notches
Hear me speak …
(From 'Ogham', by Susan Connelly,
The Poetry Ireland Review, 68 (Spring 2001), 83-84.)
Ogham is known to Celtic scholars primarily as the vehicle for the earliest evidence for the Irish language. Celticists tend, however, to have a low opinion of the script itself, typically dismissing it as 'cumbersome', 'crude', and 'strange'. This is a misapprehension. Viewed in the wider context of historical writing systems, ogham is, in fact, something of a marvel: a radical departure from the scripts which inspired it, brilliant in its practical simplicity, yet intellectually sophisticated.
The ingeniousness of ogham becomes evident when we widen our gaze beyond the fifth-, sixth- and seventh-century monumental stone pillars which dominate the archaeological record, and take in the script's diverse applications throughout its entire period of use, starting perhaps as early as the second or third century AD (the 'prehistory' of ogham) and continuing to the dawn of antiquarian interest in the eighteenth century. This requires critical attention to the too-often overlooked examples found on diverse media other than stone, in and beyond Ireland, and to the various references to ogham inscriptions in early Irish literature. It also requires an appreciation that to write and read ogham was not an abstract process but an embodied experience.
From these perspectives it becomes easier to gain traction on some fundamental questions which have hitherto remained unanswered: Why was ogham invented? What was it used for? How widespread was ogham literacy? Why does the script look the way it does? Why does it read vertically? Why is the order of the letters so different from the standard alphabet? The result is a new appreciation of just how special is 'virgular quinquecostate ogham writing' (James Joyce Ulysses ch 17.771-3).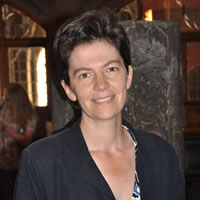 Katherine Forsyth
Katherine grew up in the North-East of Scotland where she developed a fascination with the early medieval inhabitants of the region – the Picts – and their remarkable stone sculptures. She pursued this interest at the University of Cambridge (Dept. of Anglo-Saxon, Norse and Celtic), and then Harvard University, where she gained a PhD in Celtic Languages and Literatures with a thesis on the ogham inscriptions of Scotland. After holding the Rhŷs studentship at Jesus College, Oxford, and research fellowships at St Hilda's College, Oxford and University College London, she moved to the University of Glasgow's department of Celtic and Gaelic, where she has taught since 1998. Katherine has published on various aspects of Pictish studies and on sculpture and inscriptions in Scotland and Ireland, having conducted fieldwork there and in the Isle of Man and Brittany. Her research approaches text as material culture, and writing as a social and cultural practice. She has a particular interest in the origin and development of the ogham alphabet and the Pictish symbol system. In 2008 she published Studies on the Book of Deer, the result of a large-scale collaborative research project on mainland Scotland's oldest manuscript. She has also published inter-disciplinary studies of Celtic board-games. Over the years, Katherine has acted as academic consultant on the display of early medieval sculpture at a number of sites, including Iona, and worked with contemporary artists who seek to engage with Scotland's ancient art. She is a former chair of the National Committee on Carved Stones in Scotland. She is currently leading a public engagement project, Spoken Here: Mapping Gaelic Glasgow, which explores the city's Gaelic heritage. Since 2016 she has been the Director of the AHRC's Centre for Doctoral Training in Celtic Languages.