Writer as righter? Irish-language poetry and human rights ideals
Drawing on Seamus Heaney's espousal of the "writer as righter" (2010), this paper will discuss the role of the poet in an interconnected world. Literary devices such as metaphor, allegory and metonymy are regularly employed to discuss human rights issues and concerns. The potential for use and misuse by those who wish to inform public opinion, obliges us to deepen our understanding and appreciation of literary modes of expression that can cultivate transnational solidarity or conversely, arouse suspicion of 'dangerous others' and incite transnational discord and conflict. What role does the contemporary Irish-language poet play in this context?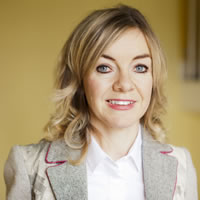 Rióna Ní Fhrighil
Rióna lectures in contemporary Irish-language literature in NUI Galway. She is author of Briathra, Béithe agus Banfhilí (An Clóchomhar 2008), a comparative study of the poetry of Nuala Ní Dhomhnaill and Eavan Boland. She compiled a multi-author collection of essays on critical theory and contemporary poetry in Irish called Filíocht chomhaimseartha na Gaeilge (Cois Life, 2010). She is also co-editor of the peer-reviewed journalLéann. Rióna was the principal Irish-language researcher on the AHRC-funded project 'The Representation of Jews in Irish Literature'. In 2018 she was awarded substantial research funding under the prestigious Irish Research Council Laureate Award scheme and is Principal Investigator of the project 'Human Rights and Modern Irish Poetry'. She is also co-director of the multidisciplinary project Aistriú: crossing territories, languages and artformswhich is funded as part of Galway's European Capital of Culture programme (2020).